58 Park Square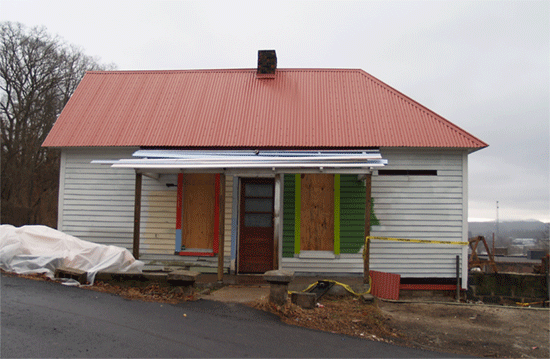 This home isn't much to look at now, but it is an original millhouse for the Asheville Cotton Mill and will be restored beautifully by our talented design team and crew. Specializing in both historical preservation and new urbanism, Urvana, LLC, will revive the house to bring out its charming early 1900s character with the benefits of modern green building concepts such as radiant floor heat and energy-efficient Pella windows. This project will include restoration of the hardwood floors and wood siding, era-relative detailing inside and out, the addition of a covered porch and artist studio, and the planting of fruit trees and other edible landscaping.
This house will feature:
2 bedrooms/ 2 bathrooms (the second bedroom is in the sunlit basement and will make a great artist studio). See the floor plans.

Original restored Beaded Pine interiors with wood floors and Depression Era primitive wood paneling

Original restored wood siding on outside

Open kitchen/ living room plan

Two-story porch off kitchen

Energy-efficient Pella Windows matching the original design

Edible landscaping including fruit trees and herbs with picket fence

Price: $235,000 NOW UNDER CONTRACT

The "before" photograph, when the house was first
purchased by Urvana, L.L.C.

The old stone stairs that lead from
Roberts Street up to Park Square.

September 27, 2005. A lone roofer finishes
the last touches on the red corrugated metal
roof. The original wood siding, seen here, is
being restored and repainted.



Lots and lots...



of work being done!

The basement is being cleaned up and
prepared to be transformed into a
bright sunny room.



The kitchen being transformed to an

open and sunny space.

A glimpse of the huge trees and vines as

seen from the backyard.


September 9, 2005. Whoa! Don't worry, these funky colors are just an experiment to find the perfect combination. Colorful paint was typical of the Arts and Crafts era; and many houses around this neighborhood are being restored with bright colors.

August 25, 2005. Major cleanup of the house

and property is in progress. The old roof has

been removed to prepare for the new one

which will be red corrugated metal.

August 16, 2005

View from the living room, August 16, 2005.

This dilapidated deck will be removed to leave sunny yardspace. A much more functional two-story porch coming off the kitchen will be built just next to where this deck is now.

The metal siding is peeled back here to show the original wood siding underneath. The wood will be restored.


A view from the back. The window looks out from the kitchen and the door below leads to the basement which will be transformed into an artist studio.

Cardboard, used for insulation and wall support,

peaks through the slats of an anterior addition.